Birketts' Ipswich office officially opened by HRH The Earl of Wessex
15 May 2018
Top 100 law firm Birketts' new headquarters in Ipswich was officially opened by HRH The Earl of Wessex on Friday 11 May.
The Earl's visit, which was co-ordinated by the Suffolk Community Foundation, involved a number of local voluntary groups and Ipswich Community Media, the Porch Project, the Bangladeshi Support Centre, Inspire Suffolk, 4YP and Access Community Trust all attended the event alongside local dignitaries.
Birketts will take full occupancy of its new headquarters in Princes Street, Ipswich on Monday 4 June.
Jonathan Agar, Chief Executive Officer for Birketts, said: "We are delighted that our first event at our new office is one which is able to shine a light on, and support, the work of our local voluntary sector."
Jonathan continued: "Birketts has had a longstanding need for new business premises in Ipswich and our office move signifies a fantastic new era for our firm and our clients. Top quality office space is an absolutely crucial part of our recruitment, retention and reward programme as we look to further grow the business. The partnership with Churchmanor Estates, supported by Ipswich Borough Council, has delivered a bespoke solution that ensures we are at the forefront of new investment into Ipswich, in a flagship office in the 'Princes Street corridor'. We hope this encourages others to follow suit and invest in the long-term future of Ipswich."
James Austin, Senior Partner at Birketts, added: "Birketts employs almost 600 highly skilled lawyers and business support staff across our four offices with nearly 300 of these people based in our Ipswich office. This is an incredibly exciting time for the firm and our move will allow us to improve efficiencies and communication, while providing enough space to fulfil our ambitious growth plans.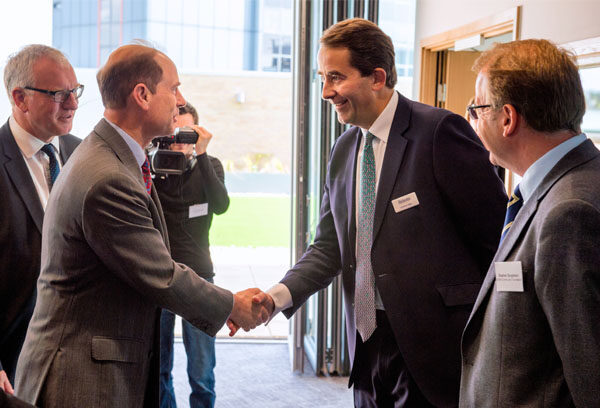 Photo (by kind permission of Suffolk Community Foundation): James Austin (Senior Partner, Birketts), HRH The Earl of Wessex, Jonathan Agar (Chief Executive Officer, Birketts) and Stephen Singleton (Chief Executive, Suffolk Community Foundation).
Jonathan Agar DL

James Austin
The content of this article is for general information only. It is not, and should not be taken as, legal advice. If you require any further information in relation to this article please contact the author in the first instance. Law covered as at May 2018.