Experience
Other Information
James qualified as a Solicitor in October 1998 and joined Birketts in 2003. He is a Partner in our Agriculture Team.
With 20 years' experience as a property lawyer James now concentrates on advising farmers, landowners and agri-businesses as well as banks lending in the agricultural sector. He deals in particular with tenancies and the buying and selling of agricultural land. He has acted for a number of landowners in the disposal of land for development, whether outright or pursuant to options or conditional contracts. Amongst his clients there are several in the renewable energy sector, harvesting landfill gas or operating anaerobic digesters. James also buys and sells residential properties.
James is based in our Ipswich office.
James is a member of the Suffolk Agricultural Association and the Agricultural Law Association.
James is ranked in band 1 by Chambers [UK 2022]. Clients in this edition say "I like his approach – he is straightforward, succinct and to the point". In the previous edition a source enthuses that "James is considered and professional at all times, balancing real-world common sense with a deep understanding of the law".
James is also recommended by Legal 500 [UK 2021]. Clients in this edition note 'James Dinwiddy has a very pragmatic approach, is commercially-minded and got the deal done'. Another client adds 'The individuals within the team are personable and professional and you get the sense they really care about the work they are doing. Having worked closely with James Dinwiddy and Imogen Grainger they were always friendly, approachable and open in the advice being given and cut through the normal jargon to get to the crux of matter. The main qualities I valued were their clear and concise advice and willingness to work with me for the benefit of our mutual client'.
Contact information
+44 (0)1473 406375
+44 (0)7919 543796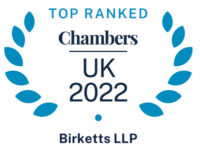 James Dinwiddy has a very pragmatic approach, is commercially-minded and got the deal done.
Legal 500 [UK 2021]