Experience
Other Information
John joined Birketts as a Partner in April 2006, having previously worked at a major national law firm for 14 years, followed by three years as a partner in a medium-sized East Anglian practice. John heads the firm's Property Litigation Team in Norwich.
John qualified as a Solicitor in November 1989 and in his early years of practice he worked as a non-contentious commercial property lawyer before becoming a commercial litigator with a particular interest in property disputes. Since 1998 he has practised almost exclusively as a property litigation and property related professional negligence specialist.
John advises and acts for clients on a very wide range of contentious property matters, and property related professional negligence. In addition to his technical advisory work he also acts for clients both bringing and defending property related claims, including claims for injunctive relief, declaratory relief, and specific performance, in a wide variety of courts and tribunals including the First Tier Tribunal, the County Court, the High Court, and the Court of Appeal. He also has considerable experience of arbitration claims. John is a firm advocate of mediation, and wherever possible he will try to settle cases by mediation to avoid the risks and expense of having to go to trial.
John's landlord and tenant practice involves advising on all aspects of landlord and tenant law including rent arrears, service charge disputes, disrepair and dilapidations (both interim dilapidations and terminal dilapidations), forfeiture (including issues of waiver, and relief from forfeiture), the enforcement of leasehold covenants including those relating to user, insurance and alienation, issues relating to the unreasonable withholding of consent by a landlord to assignment or sub-letting, insolvency-related property matters, the renewal of business leases protected by the Landlord and Tenant Act 1954, break clauses (both landlord break clauses and tenant break clauses), the service of notices, security of tenure issues, and a host of other disputes and issues arising out of the landlord and tenant relationship.
John has substantial experience of agricultural property law and advises both agricultural landlords and tenants in relation to farm business tenancies and holdings protected by the Agricultural Holdings Act 1986.
John also advises on a wide range of freehold land issues including disputes arising out of, or involving, restrictive covenants, overage, options, pre-emption rights, easements, sporting rights, licences and other occupational rights, estoppel, boundary disputes, squatters, trusts of land, mortgages and the enforcement of security over land, strategic land issues, and contentious Land Registry matters.
John acts for a wide range of corporate clients, partnerships and private clients including property developers, retail and investments landlords and tenants, commercial landlords and tenants, and farmers.
John is ranked in band 1 by Chambers [UK 2022]. Clients in this edition say "John Scannell is a high-class litigator and property expert who can make a horrible dispute entirely manageable." Another adds that he is "hugely experienced and knowledgeable".
In an earlier edition market commentators say "he is a fearless litigator. He likes to chat things through and throw about ideas, but once settled on a strategy he is very robust in pursuing and implementing it".
John is recommended and named as a 'Leading Individual' by Legal 500 [UK 2022]. Clients in this edition say he "is hugely informed and clever: a man who cares deeply about getting the right result for his clients". In the previous edition, clients say "John Scannell is a very technically accomplished property litigator who goes the extra mile for his clients. He is always totally on top of all the facts of his cases, is tactically astute and provides clear and pragmatic advice for his clients, for whom he really cares". Another adds "Simon Woodhead and John Scannell bring to the property team not merely deep-seated expertise, but also a depth of warmth and understanding for their clients which is exceptional".
John is a member of the Property Litigation Association.
Contact information
+44 (0)1603 756410
+44 (0)7901 535938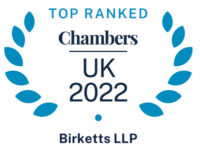 [John] is hugely informed and clever: a man who cares deeply about getting the right result for his clients.
Legal 500 [UK 2022]