Karl Pocock
Partner – Head of Corporate Tax
Experience
Other Information
Karl is a Partner and Head of Corporate Tax. He qualified as a Solicitor in September 2002 and joined Birketts in July 2014. He specialises in business taxation and advises a wide range of clients including companies, entrepreneurs and not for profit organisations in relation to their tax affairs. He enjoys the variety that his role brings: whether this variety derives from the tax issue in question, the nature of the transaction itself or the client he is acting for. In particular, Karl regularly advises on mergers and acquisitions and has been involved in numerous transactions over the years, including many high value deals whilst at Birketts. He also advises companies in relation to reconstructions and demergers and has an underlying aim to achieve his clients' commercial goals in the most cost-effective and straightforward manner as possible. Karl has a strong track record of advising both employers and employees in relation to tax issues that arise from employment or directorships including, by way of example, the taxation of termination payments and queries relating to employment related securities. 
Karl has a particular interest in the taxation of property transactions and has developed this specialism with a particular focus on SDLT and VAT. He regularly advises in respect of both commercial and residential property and acts for individual purchasers, landowners, developers and promoters. This has seen him act for many of the firm's largest clients but also many individuals and smaller businesses who have their own unique situation and requirements.
Karl advises local authorities and other clients in the public sector in relation to the taxation of real estate transactions, employment matters and structuring investments and outsourced services.
The wide breadth of Karl's practice gives him and his team a unique insight into many businesses and arrangements, which further strengthens their commercial knowledge and understanding that can be reflected in their corporate tax advice.
Karl is a member of the firm's Charities Team and the Public Sector Team, as well as the Strategic Land Team.
Karl is primarily based in our Norwich office although he also regularly travels to the other offices.
Prior to joining Birketts Karl trained and qualified as a Corporate Tax Solicitor at an International law firm in London and later worked at two national firms.
Karl is recommended and named as a 'Leading Individual' by Legal 500 [UK 2022].
Karl is recommended and ranked in band 1 by Chambers [UK 2022]. In this edition clients say "he is highly skilled in corporate tax, very responsive and easy to work with. He is intelligent, good with details and comprehensive in his scrutiny". The previous edition notes "he is very approachable and very easy to work with".
Karl is keen to utilise technology to achieve greater efficiencies and this interest has led the Corporate Tax Team to work with our in-house development team to produce both the PENP Calculator and the SEIS/EIS Checker.  
Contact information
+44 (0)1603 756544
+44 (0)7772 069178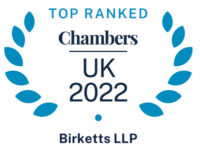 He is highly skilled in corporate tax, very responsive and easy to work with. He is intelligent, good with details and comprehensive in his scrutiny.
Legal 500 [UK 2022]